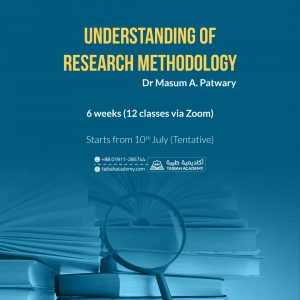 Duration
6 weeks (12 classes via Zoom)
Approximately 2 hours class per day
With special session – Islam and Research
Class Starts
To be announced latter.
Timings
Thursday and Saturday: 7:30 pm to 9:30pm .
Faculty
Dr Masum A. Patwary
He has 15+ years of experience in the field of Research Methodology and Environmental Science. He has completed his PhD in Environmental Science from the School of Science and Engineering, Teesside University, Middlesbrough, UK.
He has served in several roles including:
Researcher and Lecturer at the School of Science and Engineering at Teesside University, UK;
Research Methodology Module leader in a number of Universities in different countries;
E-Learning coordinator in the School of Science and Engineering at Teesside University, UK;
Environmental Adviser of KP Foods, United Biscuits, UK; Environmental Adviser, PRISM, Bangladesh Foundation.
He has been supervising a number of masters and PhD students in the UK and USA since long.
Dr Masum was invited as a Research Scientist to give a speech on his research in different academic, corporate and professional government and non-governmental agencies such as ADB, World Bank, and seminars, symposiums and conferences and scientific committees in different countries in the world. Currently, he is working as an Environmental Planner, California, USA.
Dr Masum has published books and scientific articles related to the Research methodology and environment in eminent journals in the world.
Who is this course for?
Anyone who is involved in research oriented work.
Course Outline
Understandig of Research:
Research: a way of idea
Research process: at a glance
Thinking of a research problem and/or idea:
Planning a research problem
Reviewing the literature
Determining variables
Developing a hypothesis
Planning a research design:
Prepare a research design
Selecting a study design
Research Proposal:
How to prepare a research proposal
Sample Strategy:
Data Collection Approach:
Method of data collection
Data using scales
Establishing the validity and reliability of a research instrument
Data Analysis:
Data Processing and Representation:
Writing a Research Report:
Finalization:
Special Session – Islam and Research:
School of Islam and Research:
Research Methodology for Religious Studies
Research methods in Islamic Science
Mode of analysis
The Noble Quran, Hadith, Fiqh and our life
Development of Islamic-based Research Methodology
Proposed Research methodology from Islamic Sources of Knowledge
Certificate
Certification of Completion will be awarded.