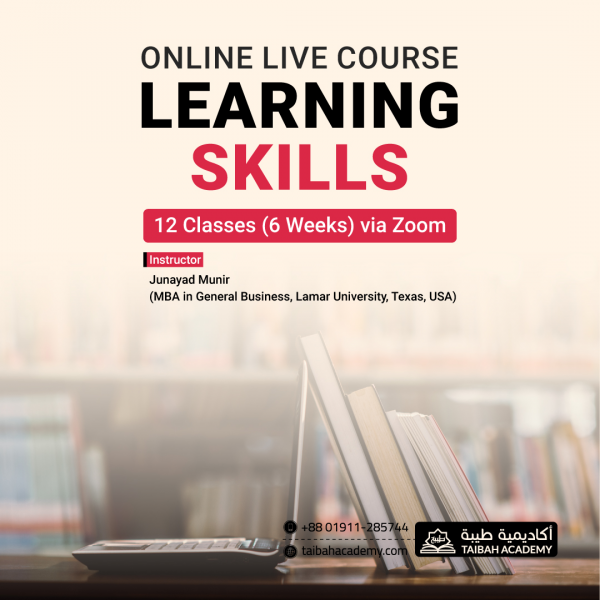 Duration
6 weeks (12 classes via zoom)
Class Starts
To be announced latter.
Timings
Thursday and Saturday: 7:30 pm to 9:30pm .
Instructor
Junayad Munir
MBA in General Business, Lamar University, Texas, USA.
Who is this course for?
Anyone who is interested to increase his/her skills in learning, no matter whether s/he is a student or not, young or old. All that is needed is your interest to learn, if you are interested in learning, then this course will increase your learning skills to learn more, spending less time and putting less effort. This course will make you efficient in learning, inshaAllah.
Why should you take this course?
You should take this course to overcome the problems you are facing while learning. If you face problems in understanding the content you read, if you face problems in concentrating while you study, or face problems in memorizing and recalling the things you have memorized, then this course would be the solution to the problems you are facing in studying and learning.
Learning Outcome
Identify the problems you face in learning.
Making a plan to overcome the problems
Good habits of studying and getting study ready
Having study buddy
Time management tips that works
Good note taking methods that works
The reason behind feeling sleepiness while studying and how to overcome it
Effective reading techniques
How memory works and what makes us remember things.
How to keep things in the permanent area of the memory.
Taking care of your body and mind
Course Topics
How do we learn
How do we study
How to take class notes
How to read
How to remember
Note: Class recording will be provided.
Course Fee
৳1000 BDT or $12 USD
Certificate
Certification of Completion will be awarded.